Jewish Boyle Heights: Remembering Brooklyn Ave.
Boyle Heights, East Los Angeles
Sunday, August 12, 2018
The Los Angeles neighborhood of Boyle Heights has long been the crucible of the American immigrant, working-class experience. At one time people of dozens of nationalities and languages called this neighborhood home, and Boyle Heights was once the largest Jewish community west of Chicago. And Brooklyn Ave – today's Avenida Cesar Chavez – was it's main shopping corridor and thoroughfare.
We will visiting just a few vital sites that tell the story of the area's Jewish history:
The Breed Street Shul – we will start our tour in front of the grand synagogue that was once the most respected Jewish house of worship on the west coast. It was one of more than 30 Jewish houses of worship in the neighborhood. We will also see the location of the first Jewish religious education institutions in Los Angeles.
The original location of Canter's Deli, as well as the location of other local Jewish bakeries and delis; where pickle and herring barrels once tempted each passerby.
We will also see the original location various other Jewish business and institutions which are now located in other parts of Los Angeles.
The Old Mount Sinai Clinic – learn about the early history of the two hospitals on the eastside, that would one day become today's Cedar-Sinai Medical Center.
The former site of the Russian Turkish Baths.
Jewish labor socialist organizing locations: Including the Jewish Labor Committee, Workmen's Circle, International Ladies Garment Workers Union, as well as local anarchist and communist headquarters.
*Note: We will not be going inside of the Breed Street Shul, but instead focusing on the community surrounding this site.
In this tour we will be retelling the story of how such a diverse immigrant community came together here in the first half of the 20th century. We will also discuss the great social challenges this community historically faced, and the movements that established. We will also discuss the forces of displacement which have historically changed the landscape of the community around us. All in order to understand the heritage of the community, as well as appreciate the challenges which are again being faced by this changing community today.
This is my basic introduction to the history of history of Jewish Boyle Heights, with a special focus on the historic alliances and partnerships established here between the Jewish and Mexican American in this very community.
This is a wonderful event for the whole family to learn about the history of old Jewish Los Angeles!
We will be meeting in front of the Breed Street Shul – Congregation Talmud Torah, at 10:15 a.m. in order to start our talk and walking tour promptly at 10:30 a.m.
There is limited street parking in the neighborhood. I recommend the city parking lot just north of Avenida Cesar Chavez off of Breed Street, located on the east side of the street. I also highly recommend people taking Metro Gold Line to our event, exiting at Soto Station just one block east of our location.
Children 13 and under are free, please contact me to add them to my guest list. For current Boyle Heights residents, educators, and community activists, I will be offering a few spots on my guest list once again; please contact me at shmuel.gonzales@outlook.com, as spaces are limited.
We will be limiting this group to a maximum of 20 participants, and will once again fill-up quickly. So please sign up today!
---
Jewish LA: From Brooklyn Ave. to Fairfax Ave.
The Migration from Boyle Heights to the Mid-City
Fairfax District, Mid-City Los Angeles
Sunday, August 26, 2018
On this special tour we are going to focus on the migration of Jewish families from the barrio of Boyle Heights, East Los Angeles to the mid-city district off Fairfax Ave starting in the late-1940s. By the 1950s the Fairfax district was considered the beating heart of the greater Los Angeles Jewish community, and its a community which still has a unique Jewish heritage to share with us.
We are going to go on a nostalgic walk through the history of this famous Jewish community, with a special focus on the restaurants, shops, and institution which relocated from Boyle Height to this neighborhood. And we will revisit the history of some of our favorite spots:
Canter's Deli – founded in Boyle Heights in 1931, they opened their second location of Fairfax Ave. in the 1940s as the Jewish community starting migrating to this area. We will discuss how they grew to be the infamous institution they are today, and how they have managed to keep this family-owned operation going for all these years. We will also discuss it became a chill hangout for celebrities and rockers, and how it remains a favorite nighttime meeting spot; don't forget to ask about the Kibitz Room!

Schwartz Bakery – we will swing by a taste of the bakery counter at the most-loved kosher bakery in town. We will discuss the amazing growth and expanse of the Jewish kosher food market in Los Angeles in the past generation.

Solomon's Bookstore – we will discuss how this bookstore and ritual Judaica shop became the first of its kind in Los Angeles in 1930s, founded by Elimelech and Chaya who had immigrated from Palestine, and who sold items they imported from relatives in Jerusalem.

Jewish Murals – we will be taking a look at a couple interesting murals; the Fairfax Community Mural near Canter's, which in several panels depicts the long Jewish history of Los Angeles, including life in old Boyle Heights; and "Breaking Bread/ Not Somewhere Else, But Here," which honors a culturally diverse view of empower women, created for National Council of Jewish Women. We will talk about the unique history of muralism in Los Angeles, and how it reaches and inspires beyond the walls of the barrios and ghettos.
We will recall the various shops and bookstores which have changed hands and merged, though have maintain their same dedicated customers for generations. We will reminisce about some of my favorite spots when this was the stomping grounds of my youth, such as the old Simon Rutberg's Hatikva Music and the original Atara's Bookstore location run by Mr. Moskowitz… and much more!
On this tour we will also be discussing how the neighborhood is rapidly changing, with a new influx of gentrification and the hip-hop street-wear scene that is competing with many of these beloved old Jewish businesses and long time residents; we will discuss the social dynamics and how they are trying to make it work. We will even explore a few new ones Jewish spots which have opening in recent years.
You don't want to miss the special tour. This is excellent follow-up tour for anyone who has been on my "Boyle Heights: Memories of Brooklyn Ave." walking-tour.
Come on this fun tour with me. Then stick around and maybe grab a corned beef sandwich for lunch after the tour? You'll be glad you came!
We will be meeting outside of Canter's Deli, in front of the Kibbutz Room sign, starting at around 10:15am in order to start out tour promptly at 10:30am. There is both metered and paid parking in the area.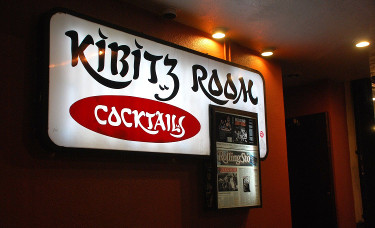 Public transit rider: From the MTA Red Line, take the 217 South towards Howard Hughes Way via Fairfax Ave. You can also connect to the 217 from any one the buses which travel down Santa Monica Blvd. or Sunset Blvd. Exit the bus at Oakwood Ave., just before Beverly Blvd.
Children 13 and under are free, please contact me to add them to my guest list. Please contact me at shmuel.gonzales@outlook.com, as spaces are limited.
We will be limiting this group to a maximum of 20 participants, and will fill-up quickly. So please sign up today!